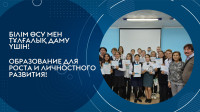 As part of the career guidance work, on November 29 this year, an intellectual game "Assessment activities in the development of the economy of Kazakhstan" was held at the university for students of grades 9-11 of secondary schools in the Karaganda region.
The main objectives of the intellectual game were: identification and development of creative abilities of students of educational institutions, stimulation of their educational and cognitive activities and assistance to them in professional orientation and continuing education.
The game was held in 3 stages: business card; presentation of the specialty; blitz tournament.